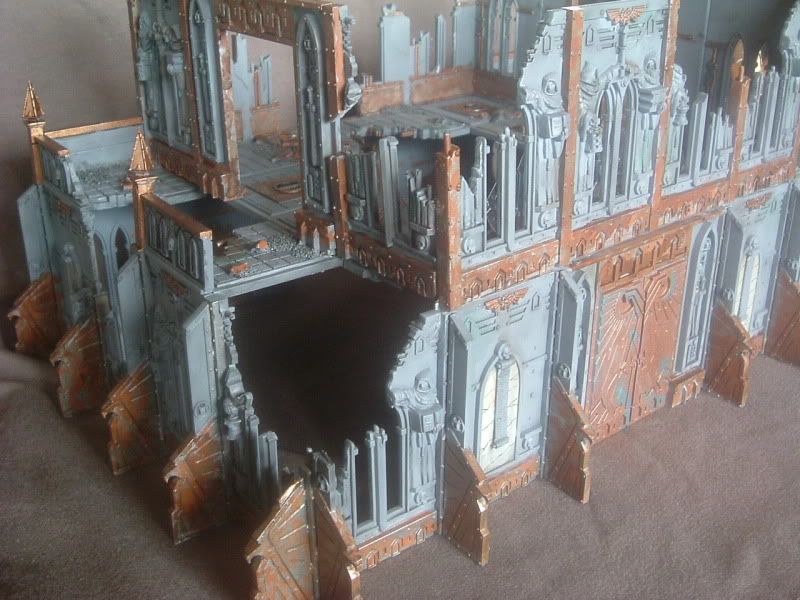 Warhammer 40k has returned to my gaming life with the newest edition of the game and I have decided that I needed to have some decent terrain to play on. As I will be gone in less than two weeks now I have to get some of these projects completed. Thankfully my Lizardmen terrain has been completed and sent off to gather dust in someone elses collection. Hopefully I will get a few games in on this piece after spending so long getting it ready! Gaming time here is getting short now!
As 40k demands a really good set of terrain it was a good excuse to get some Cities of Death. I bought the
Sanctum Imperialis
set as I wasn't sure what the quality was going to be like. I was also worried about storage. I have barely enough space for terrain as it is. I could probably provide enough for a good tournament from my 'games' room alone. I have a terrible habit of creating specific terrain for each system I collect. I should probably just play 40k with a feralor feudal setting as I could get away with my fantasy terrain then.
The quality of the set is great. The plastic is really thick and well detailed. It is a little repetitive but you can live with that. I suppose you could just turn the tile around and use the interior as the exterior for a more industrial feel. The big problem was the quantity. The building is simply a facade. Great for a Western movie set but terrible for a game. I like the visual aspect of the games and the terrain is a huge part of this. Thankfully a friend bought the full boxed set of ruins and I snapped up the two sets of
Sanctum Imperialis
that comes with this. In return I had to paint them. Three sets of the building/ruins should be able to build a large structure especially as I didn't want the building to be too tall.
Anyway I made an elaborate design which when it came down to putting it together just were not practical. They would have been completely impractical to play on as moving miniatures around the interior would have been too hard. I decided against that design and went with a more practical playing piece. I still made a few mistakes
but it came out well I believe.
Sanctum Imperialis:
From the pictures I hope you can see that I made one side of the building more ruined than the other. The ruined side is great as it is easy to move miniatures around the interior of the ground floor. On the other side I made a solid wall and roof above which makes it tough to get your hand in to move things around. While it might look good its poor design on my part. It will be something to remember for the future. For a gaming piece it has to be practical as well as looking well. Thereis no point in having a piece on the table that you can't use!
On the Warhammer Forum I noticed a nice diorama of some Tyranids and Space Marines. The maker had included shatter glass in the windows.I assume he used plastic from the blister packs. I did the same! I did notice that the plastic from Privateer Press was better than the GW one for this purpose. It is much thicker and slightly frosted which means it is easier to cut and more noticable on the model. From a realistic point of view it is probably very inaccurate to have glass surviving in its frame when the roof is completely destroyed! I suppose in the future I can return to the model and add a roof. It would have to be removable but would look fantastic.
Glass:
Finally my friend made a passing comment that now that we have some good buildings we can play Necromunda again. That was a fantastic game! To be able to play it to its full potential you need to be able to move around high in the buildings. That calls for some walkways. Using some spare pieces of floor tiles from the set addedto Peco railway bridge sidings I had a instant walkway. I deliberatley left one area on the Sanctum free from debris and wall so that I could fit a walkway onto it. So hopefully I can get some games of Necromunda going soon!
So the Sanctum has served as a good training piece to see how the Cities of Death ruins work. In the future (possibly far far future) I intend picking up two sets of the ruins and building a good set of terrain from them including lights! It seems easy enough to get LEDs into the buildings so Iwill try that. I guess it depends a lot on the space I have to store things in my new apartment. At least Iwill be able to leave the massive collection of terrain I have behind and start again.