So following on from yesterdays post on me starting Mordheim (or Mortheim as it is called in Germany) I thought I would show you a building I recently finished for the club. I haven't delivered it yet but next time we will be able to fight over this. I wanted the building to look completely burned out and with a layer of ash over it so almost everything is in grey.At least this makes it nice and easy to paint. I would have liked to make the base a little more rough but then it is practically unplayalbe so I left a lot of space clear. The terrain has to be useable too... I also like to have a lot of ground cover when I play Mordheim as it is easy to focus too much on multi-level buildings.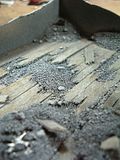 Here are some thumbnails of both the finished work and some in progress shots. This piece was far harder to build than to paint. I simply sprayed it black and then white.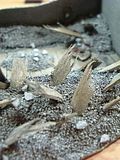 This gives a nice ash effect I have noticed when doing it before. I didn't pay enough attention though to get it perfect but I will if I do it again. Some areas are still a little too black as I didn't get them at the correct angle while one or two places are nearly white. This is especially apparent on one of the walls that you can't see on the picture. Sadly I have done the wood already so I can't easily rectify the problem. I just need to keep saying this is a gaming piece...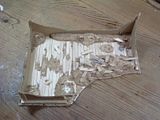 The wood I simply washed afterwards as I knew this would only provide a hint of colour. It is still fairly strong as the rest of the piece is very onochromatic. I haven't really figured out a better way to do this just yet. I stuck in an awe and dwarven rune just for something to break up the plain grey colours. I was thinking about some grass but I think that wouldn't look right either. So now I just need to decide if it was worth the effort and if I should build more!